A Solution Trusted by 100s of NBFC & Micro Finance Companies
Jainam Software is Software as a Service platform providing automated accounting specially designed for finance and deposit business with the digital platform. Using Jainam Software product, financiers can manage their end-to-end finance business with minimal manual effort because most of the processes are automated. Automation is done for customer onboarding, fraudulent check, ID check, credit score check, auto disbursements, auto collections, and digital payments. Using this platform multiple users like superuser, admin, manager, collection agent, credit officer, recovery agent, customer, and auditors can access their respective data to perform business functionalities.
The power of Jainam software comes with customization, because the product is designed in such a way that 60% of the functionalities are user-customized. Customization of interest calculation, flexible interest, run time interest calculations are extremely easy in Jainam Software. There are more than 200+ interest calculations that are possible in the system like daily, weekly, monthly, etc. with intervals from 1 to 15 and calculations like flat installment, internal rate of return (IRR), deducting interest from the principal, on-demand interest calculation, customization installment plan, and many more.
Collection of cash through mobile is extremely easy and can handle more than 50+ Rules on the field scenarios like receive less, receive more, advance installment, Set Visit if advance  paid, follow-up, etc.
Using this product, compliance reporting is done using the configuration reporting concept. In addition to this customers can directly create their own reports using the Ad-hoc report concept.
We have been publishing various informative and useful videos for our customer to understand Jainam Software in a better way. Kindly visit our channel and subscribe if you like our videos
Our Vision
A simplified solution with process automation built on the digital platform for connecting borrowers/investors and financiers/depositors.
Our Mission
To have 2000+ financiers using Jainam Software SAAS Platform globally by 2021
Our Values
Save time & money by integrating business intelligence & new technologies to scale business.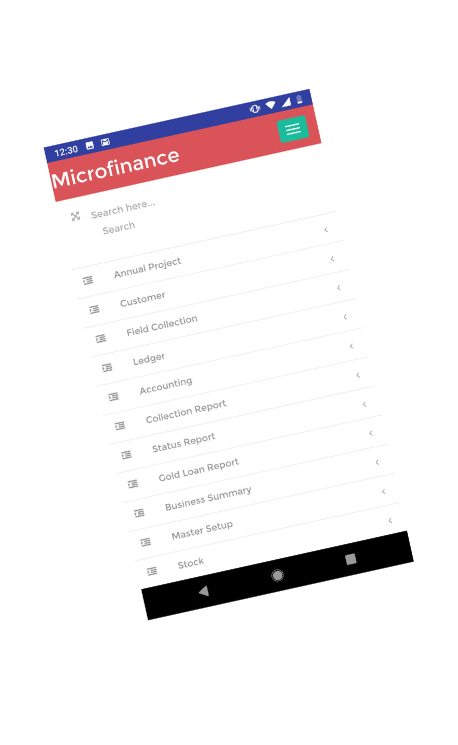 We are happy to help you!
NBFC, Small Finance Bank, MFIs, Credit Co-operative Society, Nidhi, ChitFund, Group Finance, Hire Purchase, Recovery Agency, Daily, Weekly, Monthly Collection Company, Insurance Company, Money Lenders, Susu Company, Credit Officer Collection, RD, FD, Savings.
Address
B-403, Unnati Society, opp. VIT Hostel Chowk, Kondhwa, Pune, Maharashtra, India 411048
Email
support@jainamsoftware.com