What is Auto Disbursement Management?
Auto Disbursement Management is automatic disbursement or payout of funds from Financer's Bank to Borrower Bank. This payout or disbursement is a direct bank to bank transfer.
Jainam Software and Automatic Disbursement
Bank Accounts of the financier and borrower are integrated by jainam software team. These accounts are digitally verified automatically by the lender in Jainam Software. Loan is disbursed from Jainam Software by selecting the appropriate bank account. On one disburse payout click, funds are automatically transferred from the Financer bank to borrower Bank. There is no need to pay cash, cheque, net banking etc.
Automatic Disbursement Process in Jainam Software
1: Loan is created by Lender or Customer applies Loan from his Login
2: Loan Request awaits Approval

3: Once e-KYC is verified and the Credit score report is successfully analysed. Lenders can approve the Loan by changing the status to approved.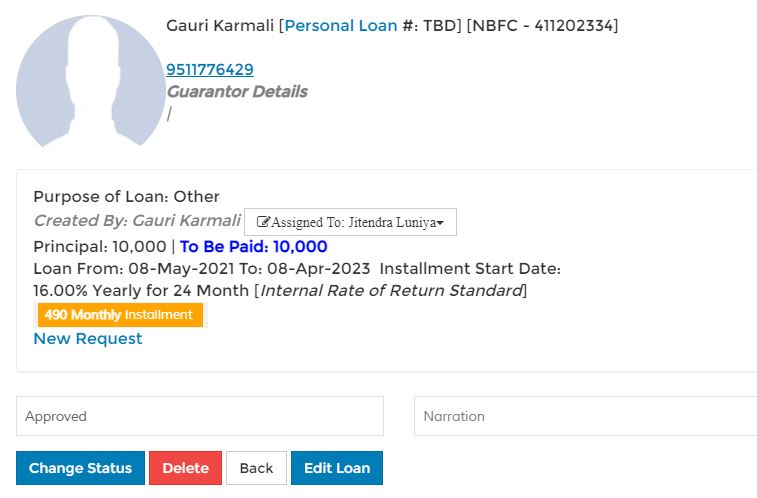 4: Once the loan is approved, it's time for disbursement.
5: At the time of disbursement the lender can change the Installment start date and disbursement date. Lenders can then choose the bank from where the disbursement will be done and click on the button Disburse Auto Payout. As soon as this button is clicked, that is on one click funds are transferred to the borrower bank.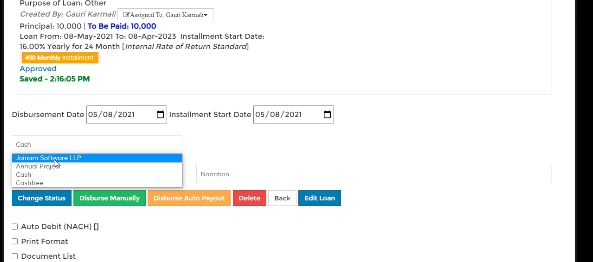 Summary: Auto Disbursement Management in jainam software is a feature that increases the efficiency of every business and helps save time which inturn will help businesses to grow fast and in a very qualitative manner.