What is NACH?
National Payments Corporation of India (NPCI) has implemented "National Automated Clearing House (NACH)" for Banks, Financial Institutions, Corporates and Government. It is a web based solution that allows interbank and high volume electronic transactions which are repetitive and periodic.
Jainam Software uses NACH System towards collection of payments pertaining to loans and deposits.
Jainam Software is integrated with NACH for automated clearing process and the process flow is shown in the diagram below.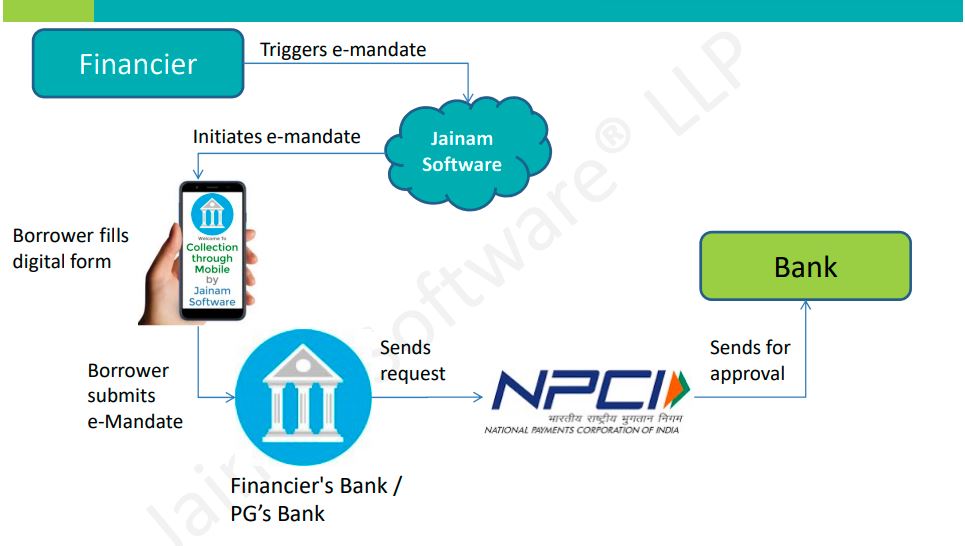 NACH system in Jainam Software provides a robust, secure and scalable platform to the financers. It has best in class security features, cost efficiency & payment performance (STP) coupled with multi-level data validation facility accessible to all participants across the country. It also saves a lot of time as Lenders do not have to spend time and money on Field collection.
NACH Steps in Jainam Software
1: Create Customer Profile or Customer On-boards through lenders website
2: Lender Verifies EKYC Documents
3: Lender creates a loan or Customer applies for a loan
4: Lender receives the Loan Request
5: Lender Approves Loan
5: Once Loan is approved digital e-mandate is set through Jainam Software.
6: Customer gets an SMS for filling out the mandate Registration Form
7: Once Registration form is submitted. It will go through NPCI for approval.
8: Status at this time in Jainam software shows Bank Approval Pending
9: Once the Bank approval is done. NACH is activated in Jainam software and the status shows Active in the software.
h. Now Loan can be disbursed. Loan account is created.
I: Loan schedule is defined in NPCI. This means as per schedule, amount will be transferred from
customer bank account to your bank account automatically.
J: Incase of any errors like Insufficient balance, or any technical error. Jainam Software appropriately displays the error in the NACH report so that the financer/lender knows what the error is and can appropriately trigger the NACH manually.
To sum up: NACH is one of the significant features of Jainam Software that makes it so different from other softwares. Financiers can save their time and money by using NACH. It's a feature that helps every business grow in a very secure and speedy manner.