It's right time to move to Jainam
Jainam Software, a unique SaaS product for managing your NBFC, MFI, Cooperative Banks, NGOs, Nidhi, Co-Operative Society, Chit Fund Companies, Payday Loans Companies, and 25+ other business lines.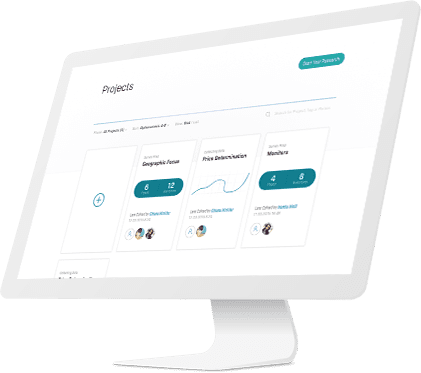 "Jainam Software is one of the best cloud-based Saas software for NBFC, Credit Co-operative Banks, Micro Finance Companies, NGOs, Credit Cooperative Societies, Daily Collection Companies, PayDay Loan Companies, and many other lines of business in the finance domain that need automated accounting and integrated solutions."
Jainam Software integrated solution provides you hassle-free automated account, Loan Originating System, MIS, Chart of Accounting, P2P Management System, CRM, Open Banking System, Branch Management System, Fraud Analysis Management, and many more modules.
Discover world-class fintech products for finance & deposits.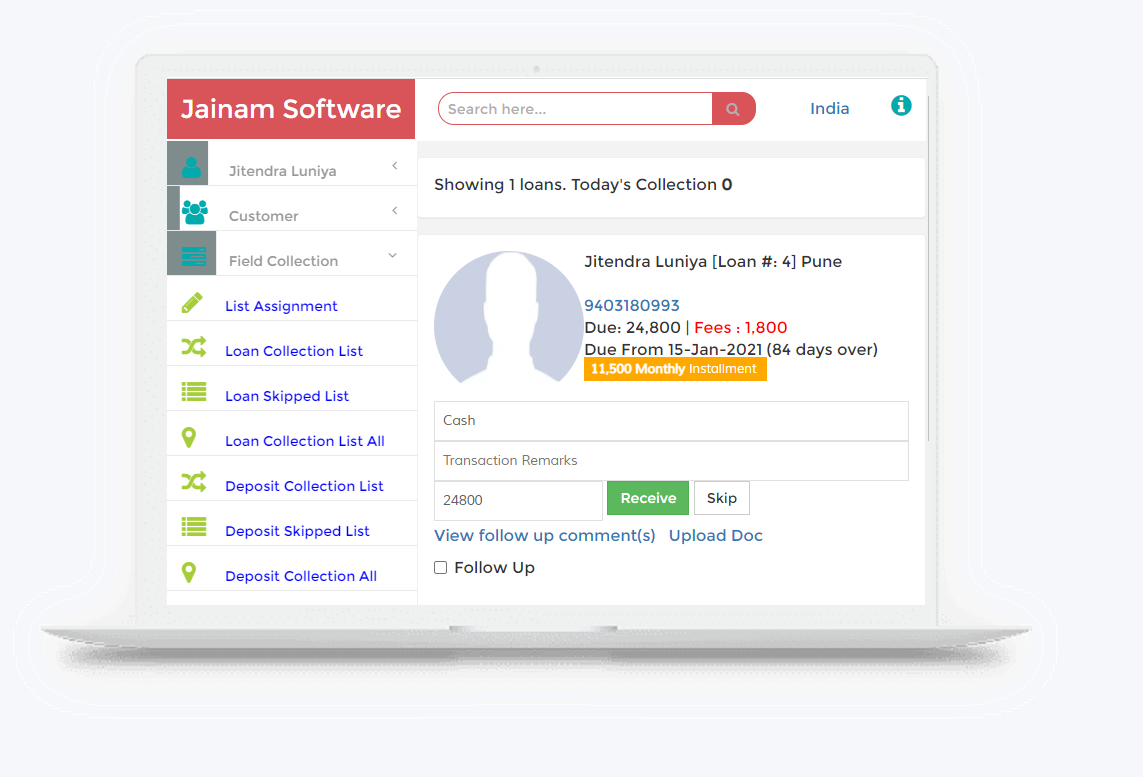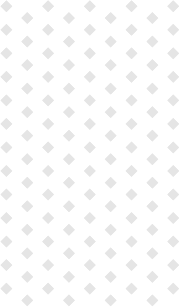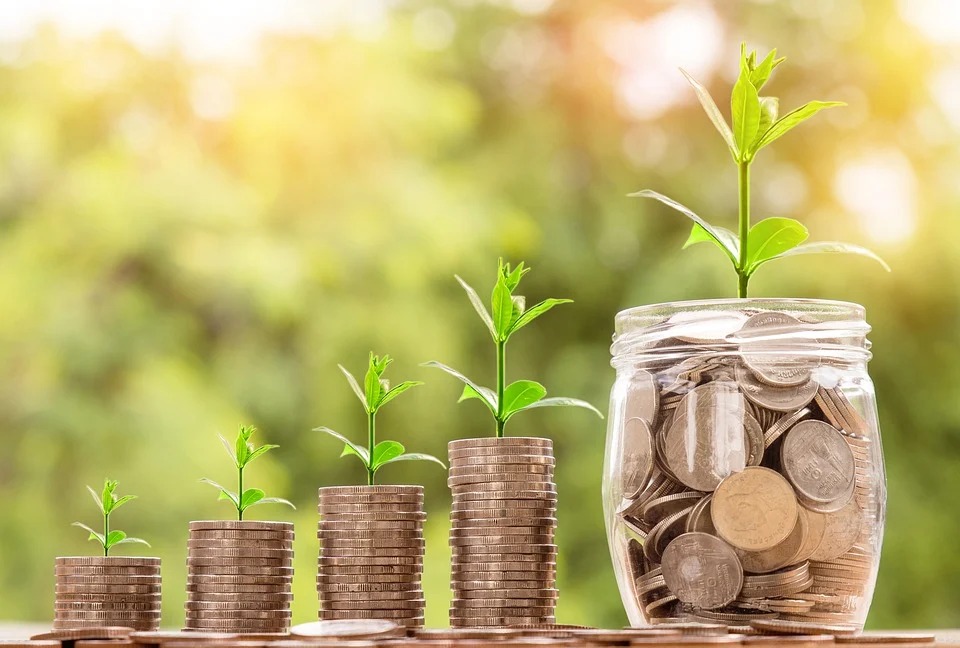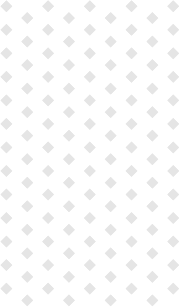 Digital Payment
NACH, Auto Disbursement, Auto Collection, Customer On-Demand Digital Payment
Fraudulent Check
Automated Digital Verification of Bank A/c, Aadhar Card, PAN Card, Voter ID, Driving License, Passport, Utility Bill & Address
Credit Score Check
Download credit score and report on one click and upload defaulter's data credit bureau agencies
Collection Using Mobile
Automated Daily, Weekly Monthly Collection using Mobile. No Paperwork, No Field Machine, No Printer
Cloud Computing
Flat / Flexible Interest, Auto Penalty, Auto Due Reminders, Auto Tax, 200+ interest combinations, ad-hoc collection schedule

Jainam Software Desktop View


Jainam Software Mobile View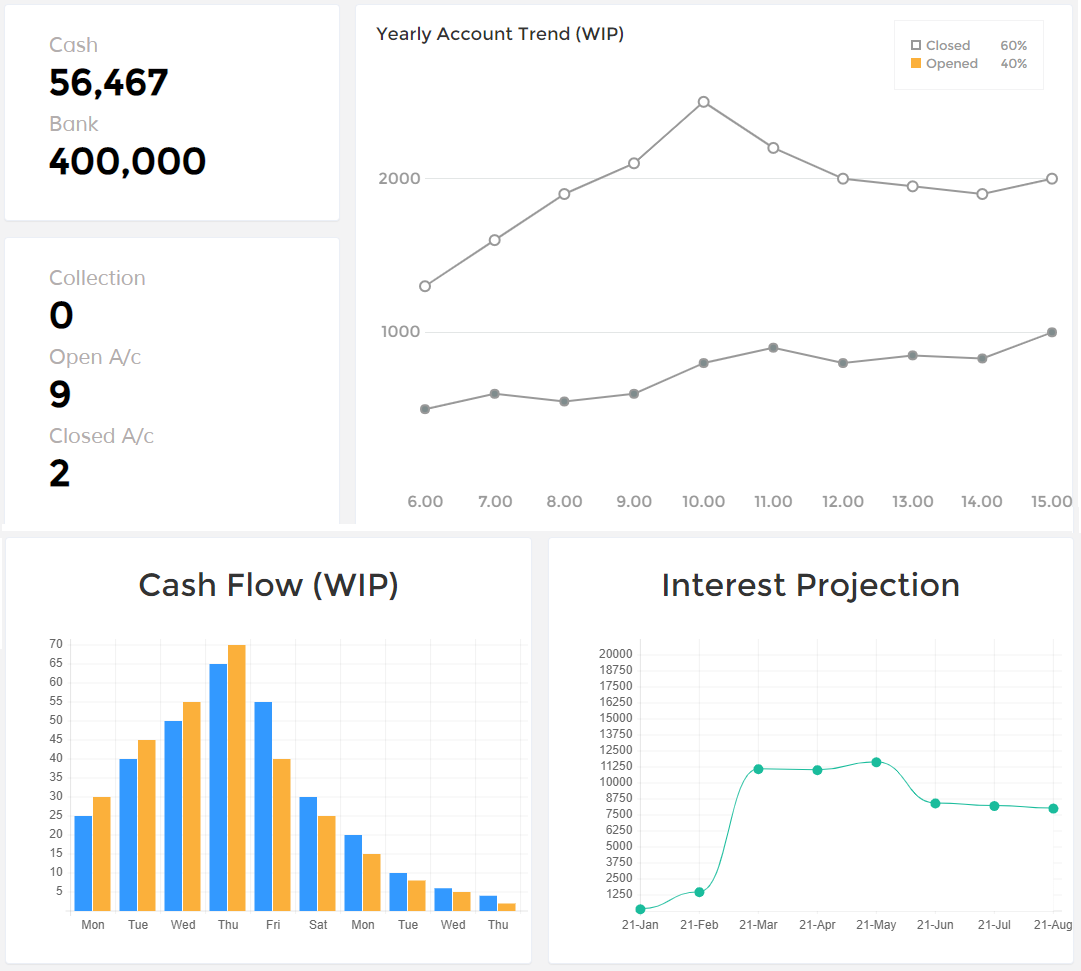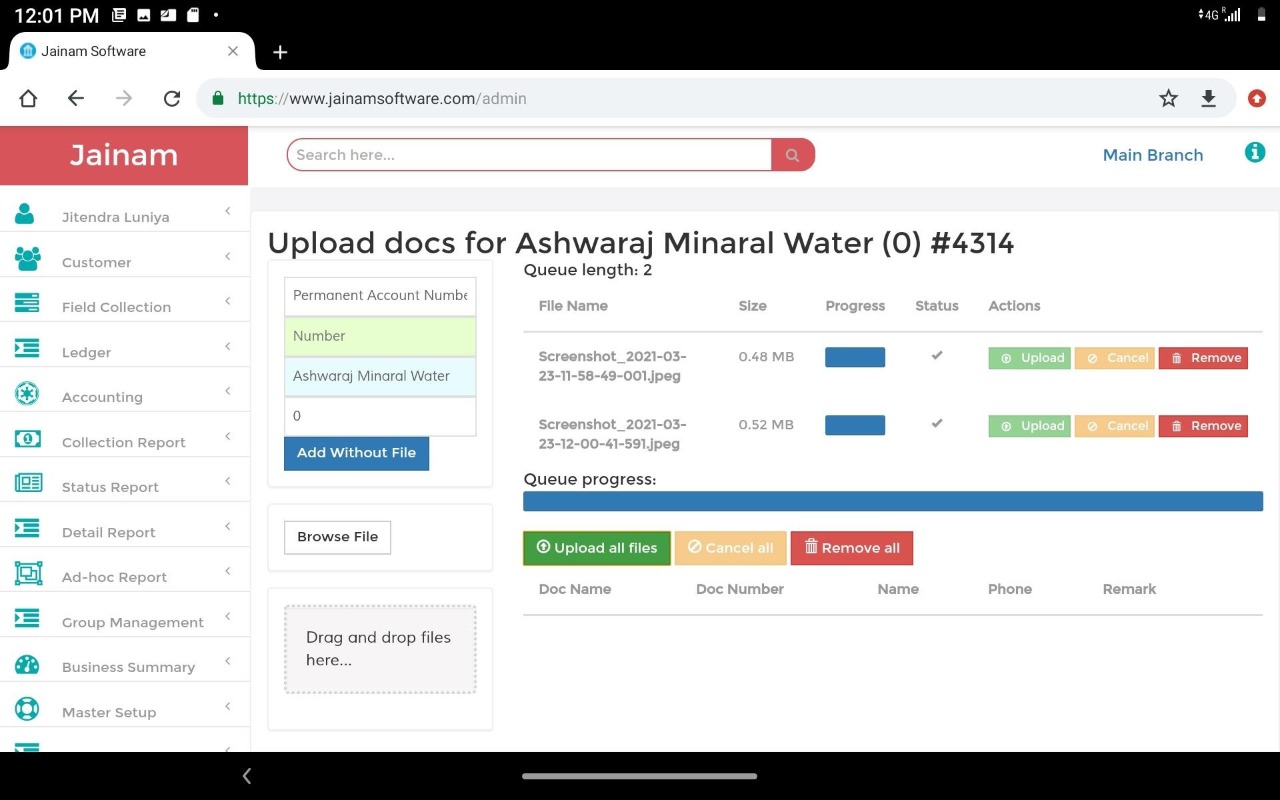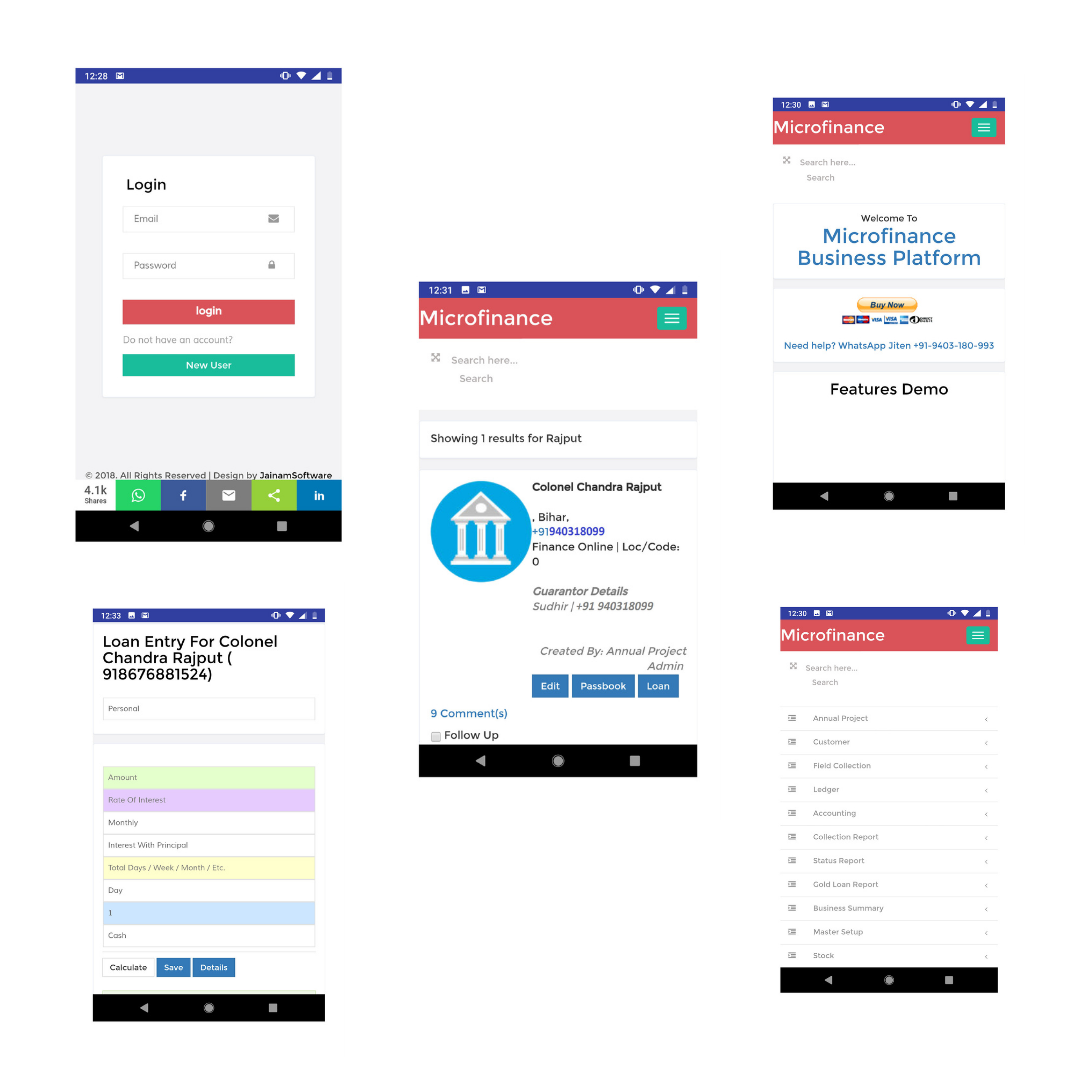 With a lot of research, experience, and expertise, we have created the perfect software to solve almost all of your problems. Some of the major features of our software are as follow
AIML
Artificial Intelligence and Machine Learning
Jainam Software has mastered agility, creativity, and excellence. We at Jainam Software focus on work precision and quality with mastery in technology. One thing that we have mastered is saving time for our customers. We don't consider our job done until we help achieve the goals of our financiers and depositors. 
Jainam Software can manage all your Loans and Deposits in one place. Automatically onboard customers, Auto Verify Documents, Auto Verify Credit Rating, ID, Mobile, Bank, GST, Auto Payment, Auto Collection, Auto Interest, Auto Penalty Real time! Tough Right? But Jainam software can do it all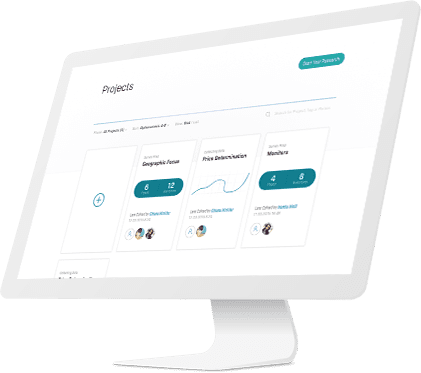 Explore & Learn
Compare Jainam Software with others. Take 15 days free trial to learn how Jainam Software works before you purchase.

Evaluate & Activate
Evaluate the options for your business. Like you can subscribe for SMS, Credit Score Report, and Auto Disbursement. Get the product activated for use.

Manage & Grow
You can start loading your data on Jainam Software & reduce your time. Slowly you will observe, you can utilise your time into business growth.
Jainam Software product is extremely user-friendly. Every NBFC should use this software & get benefits. Group finance in the software is managed efficiently. This is truly an automated accounting with fraudulent checks using the digital platform. It has helped to manage the group loans with a grace period in weekly loans. The technical team works in agile mode & upgrade product almost on daily basis without business impact.
We have our business based in Australia and Fiji. We have done extensive research in finding loan management software and so far we found jainam software the best and efficient software. It is a cloud-based software that is robust and secure. They have an excellent customer support team that is very responsive to our unique country and business requirements. We look for a long-term business partnership with jainam software.
Jainam Software has helped us grow in our country. Our business is grown and is growing since we have adapted Jainam Software. We are happy to have partnered with Jainam Software as they are innovative and have a business integrated approach towards financial services. They have supported us by being responsive to our business requirements. Their ontime customer support is excellent. 
We are happy to help you!
NBFC, Small Finance Bank, MFIs, Credit Co-operative Society, Nidhi, ChitFund, Group Finance, Hire Purchase, Recovery Agency, Daily, Weekly, Monthly Collection Company, Insurance Company, Money Lenders, Susu Company, Credit Officer Collection, RD, FD, Savings.
Address
B-403, Unnati Society, opp. VIT Hostel Chowk, Kondhwa, Pune, Maharashtra, India 411048
Email
support@jainamsoftware.com